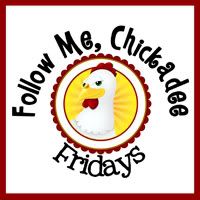 It's that time again! I've been fortunate enough to meet some great new blog friends through participating in this last week (maybe two weeks ago?? time is escaping me lately!), and so I'm hoping to be participating on a regular basis :)
Here's how you can join the fun:
The Life of a Sippy Cup Mom!, Mannland5 and The Adventures of Goober Grape and Monkey Man have teamed up to cohost Follow Me, Chickadee Fridays! Each week, simply stop by at any of these three blogs for a chance to link up and meet new and exciting bloggers out on the interwebz!
All we ask is that you follow a few simple guidelines:
•Add a main link to your blog each week (Linky will open every Thursday night at 11 p.m. EST and close at 12:01 a.m. on Saturday mornings EST).
•Follow the first three blogs in the # 1, 2, 3 spots.
•Visit the blog above and below your listing and leave a *meaningful* comment. Something nice and shiney to make them smile. But make sure to tell them that you found them from Follow Me, Chickadee!
•You don't have to follow every blog that follows you...but make sure that you follow the blogs that really interest you!
•If you want to put the blog hop code or the Chickadee button on your Friday post on your blog, we welcome it!
•Family friendly sites ONLY. The linky list will be monitored and anything not family friendly *will* be deleted. We don't want to see random naughty bits or something that would make our families cringe.
Happy Friday, friends! And don't forget to check out Ava going mobile below - our first video (I'm getting more technically savvy by the second, y'all!)!!!